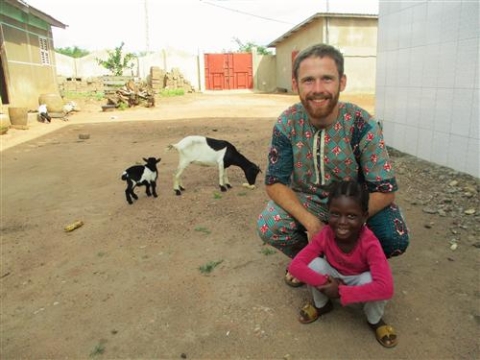 Troy graduated from Buffalo State in 2014 with a B.A. with honors in philosophy and a B.A. in French. While at Buffalo State, he wrote an honors thesis on Julien Offray de La Mettrie, contributed to the Department's Faculty-Student colloquium, and was one of nine students who represented Buffalo State at the National Intercollegiate Ethics Bowl in March of 2013. Since graduation, Troy has spent time volunteering for the Peace Corps in Benin and now occupies an administrative role with Peace Corps Benin overseeing new volunteers, promoting gender equity, and advocating for practices that will limit the spread of Malaria. These are his reflections on how his philosophy degree helps him perform his duties for Peace Corps Benin:
Studying philosophy has been vital to my work with Peace Corps Benin. I am currently serving as the organization's Gender Equality and Malaria Coordinator. In this role, I oversee projects that work to reduce gender disparities and mitigate the effects of malaria throughout Benin. My decision to join the Peace Corps was largely motivated by my philosophy background. For me, serving in the Peace Corps is an opportunity to leverage my philosophical background and make a positive, real-world impact in areas where it is needed most. My current job allows me to confront many of the issues we contemplated in the philosophy classroom such as human rights, global justice, gender equality, and social inclusion. My philosophy background has allowed me to bring a unique perspective to our organization and has helped me make our projects more effective.
As one might expect, problem-solving and the ability to think critically and carefully about large, complex issues are among the key skills I developed by studying philosophy at Buffalo State. These skills have helped me to address some of the most pressing development problems facing Benin. I assist our agency in addressing issues that range from reducing gender inequalities to reducing mosquito-borne illnesses such as malaria. We work to understand the nature of the problem and then help design projects that will work towards the desired result, such as increasing the number of girls that graduate secondary school, decreasing the number of malaria cases in a given area, etc.
Development issues are often very complex and informed by a mix of factors such as local cultural practices and beliefs, poverty, conflicts of interest, power dynamics, and much more. In order to understand a given development problem, it is first necessary to get clear on the problem and the factors that influence a given development obstacle. This involves using the skills I developed by studying philosophy; for example, making distinctions and analyzing problems from various perspectives. It then becomes possible to determine the obstacle's root cause(s). Take for example the practice of regularly using a mosquito net. Mosquito nets can be found for as little as $1 USD and have been shown to drastically reduce mortality rates due to malaria and other mosquito-borne illnesses, yet it's still a struggle to get everyone to use mosquito nets. This difficulty lies at the intersection of many factors and it takes careful thinking to parse them all out. For example, in encouraging individuals to use mosquito nets, some don't have an accurate understanding of how malaria is transmitted and thus don't use them, some don't have the means to pay for a net, some are pushed by their economic status to use mosquito nets to fish or farm, and in some regions it's so hot people choose not to sleep under a net. The point is that an extremely large number of factors inform many "real world" problems and it's important to define those problems and get clear on the different contributing factors – something you learn to do as a philosophy student.
In addition to being able to analyze complex social problems, philosophy has helped me become a better problem solver by developing a framework for proposing a solution to social problems – a task which is often more difficult than analyzing the problem itself. This requires the ability to thoroughly defend your position on a given matter, articulate and clearly explain your ideas to others, set the parameters of your arguments and scope of your claims, and work with the "big picture in mind"; that's to say not getting distracted by irrelevant points or focusing on inconsequential details. I had a lot of experience proposing solutions to complex social problems through my participation in the Buffalo State Intercollegiate Ethics Bowl. In analyzing case studies concerning various social issues, and then proposing solutions to these issues, I realized that such solutions almost always take a normative ethical stance. Solutions entail resolving conflicting values, determining one's rights and obligations, defining and understanding one's role, among other things. It's through the study of philosophy that I developed an ethical framework to dissect complex social problems and work towards crafting solutions – something that informs every aspect of my work. The ethical framework I developed as a philosophy student has empowered me to take on complex, pressing social issues. 
Troy Caruana, Benin, February 2019 [Emphasis added]